It is important to know, and educate others on all the different pedestrian crossovers found throughout your city or town.
By educating yourself, you can make your community a safer place for everyone!
What are Pedestrian Crossovers?
A pedestrian crossover is a designated area that allows pedestrians to safely travel across the street. At these crossovers, vehicles must yield to pedestrians. These crossovers can be identified by street signs and paint markings on the road.
Where are Pedestrian Crossovers located?
Pedestrian crossovers are located all across Halton Region. If you would like to know where the specific types of crossovers are located in your town or city, visit your town's websites and search "pedestrian crossovers."
Types of Pedestrian Crossovers
There are 3 different types of pedestrian crossovers located throughout Halton Region. Crossover B, C and D.  It's important that you understand the different types of crossovers and how to properly use them; as both a driver and a pedestrian.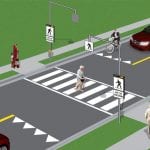 The Crossover B model consists of:
Ladder lines that mark a clear crossing area for pedestrians.
"Yield to Pedestrian" line in the shape of triangles. Clearly marked for motorists and cyclists to stop.
Road sign for both directions of traffic. The signs read "Stop For Pedestrian"
Each sign is equipped with flashing lights and overhead signs depicting a walking pedestrian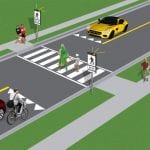 The Crossover C model consists of:
Ladder lines that mark a clear crossing area for pedestrians.
"Yield to Pedestrian" line in the shape of triangles. Clearly marked for motorists and cyclists to stop.
Road sign for both directions of traffic. The signs read "Stop For Pedestrian"
Each sign is equipped with flashing lights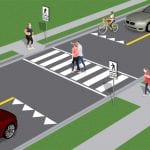 The Crossover D model consists of:
Ladder lines that mark a clear crossing area for pedestrians.
"Yield to Pedestrian" line in the shape of triangles. Clearly marked for motorists and cyclists to stop.
Road sign for both directions of traffic. The signs read "Stop For Pedestrian"
Pedestrian Crossover Instructional Video